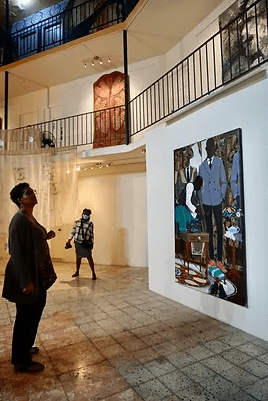 And there was the Bay Gallery in Montego Bay, operated by Gilous Bauer; The Montego Bay Gallery operated by Neville Budhai; The Joe James Gallery in Martha Brae; Trelawny; Harmony Hall, Near Tower Isle, St Mary, operated by Annabella and Peter Proudlock; Baroness Fahmi Operated the Port Antonio Gallery; with a few pop-ups in between. But through the 70s to the 90s Kingston, in general, boasted a near 20 Art Galleries, plus a number of others, stretching between Kingston and Negril, with the renowned Round Hill Hotel, periodically opening its portals and hosting its own exhibitions… 
Now, the beauty of living in Kingston, at the time with so many galleries, were the many exhibitions, pop-up exhibitions, pre-opening cocktails and post-opening lymes; dinner parties and cafes, bars, and the winding down session they featured after each major exhibition. As the cultural high, attained at an exhibition opening, was not easy to let go of, during the official hours and usually required a post Exhibition lyme, to take the social temperature down. And so friends would then move from openings to their favourite bars, cafes, eateries and or each other's homes, to extend the high and enjoy each other's society, and it made for quite a bustling and active city life, where fear was not a constant companion, and violent crimes were not as common as they are today. 
And, the fab-artsy living was not restricted to Kingston as indeed Annabella and Peter Proudlock had opened up the St mary Corridor, with the establishment of the Harmony Hall Gallery and Restaurant, and their exhibitions drew everyone – Art critics, buyers Social Mover and Shakers, Expats, the Diplomatic crowd, and of course the aficionados, and they (the Proudlocks) always made for good outings as a visit to Harmony Hall, would end with an invite to brunch with North Coast Social luminaries, artists and artisans, and it all made for a simply fabulous time. 
Move forward to 2023 and the once thriving business of Art and Art Galleries has become so decimated, there are very few Galleries still standing in the nation's Capital. To be sure the national Gallery is still there but its been run by a cabal, that's more interested in pomp and ceremony than they are in promoting art, artists and or artistic indulgences. 
Merciful, the Olympia is still standing and has become like the new epicentre of gallery life. As is the Grosvenor Gallery – still open but they too have evolved into more of a Cultural Yard, showcasing music, art and food, The art offering being absolutely on point but not as many exhibitions to satisfy the hungry public. 
And there are newcomers such as Creativ Space operated by Kartina Coombs and Winston Campbell at the corner of Law Street and Water Lane; Sky Gallery on Phoenix Avenue; and Di Gallery operated by Craig Phang-Sang, at Di Lot, at the corner of Constant Spring Road and Seventh Avenue, near Halfway Tree. And Uelli Bangerter has transformed the once famous Landmark Swiss Stores on Harbour Street, into a chic Cafe/Come Gallery, smartly located in the midst of the new emerging creative space in Down Town Kingston, as a new Landmark. But the sad reality is that Galleries are on the Decline and so too are cultural and social exploits, not to mention commercial activities, they spawned.