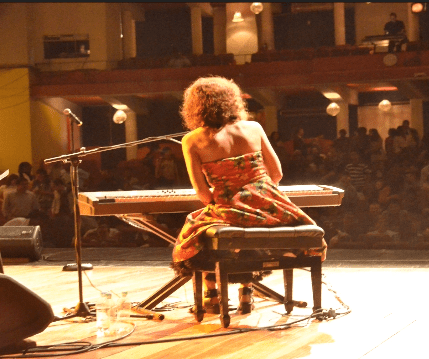 Celebrating Spanish Musical Culture
And just when Kingston was becoming even more jaded, bored with international and national political shenanigans, His Excellency, Josep Marla Bosch Bessa, of the Embassy of Spain and the Spanish-Jamaican Foundation, decided on throwing a spectacular musical soiree starring international award-winning Spanish musical songbird Carmen Paris, in concert under the theme "En Sintesis", at the Little Theatre, over there in the heart of the city's cultural district, that was indeed, a timely intervention and then some!
To say Ms. Paris, came, sang and conquered, would be to cheapen her performance, as she not only came, sang and conquered, she also enthralled and captivated with her own inimitable language in song, dance and storytelling, that was simply mesmerizing – earning her, several curtain-calls and more, from an appreciative audience, that was not ready to let her go, even after a number of encores…
And little wonder here as this was prime-time, with the Spanish-speaking and Hispanic community out in force, headlined by The Most Hon. Lady Rheima Hall; Minister Mike Henry and wife Mrs. Dawn Chambers-Henry; Nigeria's Ambassador To Jamaica, Her Excellency Mrs. Janet Olisa, and her husband, Ambassador Dada Olisa; Dr. Johnathan Greenland and wife Dr. Rebecca Tortello-Greenland; Mrs. Gillian Rowlands; the oh-so-gorgeous Joan McDonald; style doyenne Karen Neita; Mrs Maria Pinchin; plus several others.
But dears, the night belonged to Carmen Paris and her ensemble of musicians as the Spanish songbird, artist, composer, pianists, and dancer, entertained in true Temptress style, singing a medley of traditional jota, innovative and new songs, whilst proving the quintessential 'raconteuress', sharing her stories of love, broken heart, her childhood and journey into womanhood and self and she made for a very engaging performer.
She did not include a reggae piece in her repertoire but promised for her next album, in homage to her debut in Kingston, she will include at least one reggae-inspired track, and that, we look forward to…
Until then we share the highlights of her Kingston performance and autograph session, at the Little Theatre…