Jamaicas 15 Most Powerful Tycoons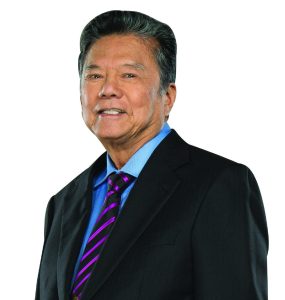 6. Las Chin: This manufacturing and retail Titan, is easily, one of this Country's most admired, loved and respected business leaders. And Little wonder, as Las Chin's business model, has always been about promoting the welfare and wellbeing of his fellow customers, but particularly, those at the bottom of the economic ladder and who find it hardest to survive in the world of high-prices. And with his learning curve being rural Jamaica, where he was first exposed to retail in his parents groceries, Las Chin, knowns the struggle to make the dollar stretch, for the average family.
It is this knowledge that motivated him to source and fashion his product to make them affordable to those with the least to spend on their daily must-haves. And so, the LASCO brand was born.
Las Chin, is known and lauded for his philanthropy, as he personally, is one of the single largest contributors to educational causes and charities, to benefit the poor and needy; And as well as to laud our unheralded public sector workers, his Lasco Brand, created annual awards to celebrate and reward the exemplary service of our Teachers, Police and Nurses.
Today, the Self-made conglomateur and King Of Retail, manufactures and or distributes over a 1000 food and pharmaceutical items, through his Lasco brand adding to his Lasco Financial Services Division.
With his wife, Dr Eileen Gonzales-Chin, no longer taking an active role in the management of the Lasco Group, no clear successor to the Lasco group has been identified, but observers expect that an heir/heiress will emerge from any of his 6 children, when he decides to relinquish the reins to the Lasco Group Of Companies.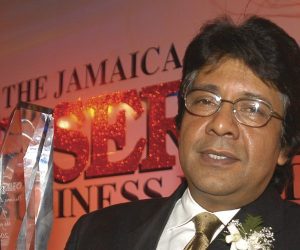 7. Kenny Benjamin: Is the success story of which dreams are inspired and movie-scripts are made. Born in India, Benjamin came to Jamaica, on holidays over four decades ago, and never looked back.
Today he is the Founder and Chairman of The Guardsman Group of Companies, that started out primarily as a private security company, providing Canine, and Human Security-Officers for Industrial and close Security requirement, for residences, businesses and VIPs, that today, has close to 10,000 employees, on its payroll, that has since been expanded to include electronic security and observation to encompass the entire security spectrum., which has seen the Guardsman Group evolved into being a real-estate Power-player; with an ever increasing foray and mastery of the Tourism and Hospitality Industries, to complement it's Real Estate holdings, as it expands its portfolio.
An Animal Lover who serves as the Chairman Of the Jamaican Society of Prevention Of Cruelty To Animals (JSPCA), Benjamin's home was once regarded as a mini-zoo housing many an exotic animals, fish, birds and reptiles, but has since downscaled his home zoo to merge with the management of the National Zoo, which he acquired, some years ago.
A celebrated philanthropist, who also serves as the Chair Of the Bustamante Hospital for Children, Benjamin is perhaps the Island's leading Hosts, the soirees, dinner-parties, hosted by himself and his companion Aloima Suarez, at their home, coveted social outings; his Week-ending Office cocktails, at the Guardsman Group headquarters, likened unto
Considered one of the Country's most powerful private sector business leaders, the Guardsman Group, is now a Caribbean-wide brand, and is on first-name basis, with a number of Caribbean Leaders.
With moves afoot for further expansion in Jamaica and other territories; Benjamin is considered the businessman with the midas touch and so his moves are observed with a keen eye for emerging trends.
A Father of three, Nicholas, Brooke and Brandon (Still In High School), it is thought by business observers, that his first born, Nicholas Benjamin, is being groomed as the heir apparent.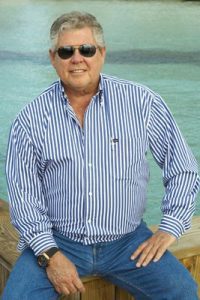 8. Gordon Butch Stewart: Considered, a no-nonsense entrepreneur, and an in your face self-promoter, at one time, by some,"Butch", has earned the grudging admiration of some of his business associates; and the deep and abiding respect of others, over the years. And so it is, as indeed, Gordon Butch Stewart, is a man who set himself an appointment with destiny, many mango seasons ago, on his way to becoming the contemporary face of Jamaica's and the Caribbean, Premier and Premium Tourism brand, and not only kept his appointment, but facilitated the appointment of many others, whom enriched and empowered, as he fulfilled his destiny, by leading them to theirs.
Looking on, many sees the charmed life of the iconic leader now feted on the world stage, but few recall the blood, sweat and tears, that went into the building of the iconic Sandals Brand, that is now the marquee brand, of the Appliance Traders Group, The Signature Brand, that made Butch Stewart, a household regional name!
Gordon Butch Stewart, is not just a story, if it were a movie, it would be an epic bio-pic, as this is the story of homegrown success of the fabulous order. – Imagine dropping out of School at 14, to roam the seas in a little 'boat' built by his own hands, to fish the north coast seas, then selling your catch, to the then Hotels; moving from being a 'fisherman', to Air-conditioning salesman; and then start your own company, a substantial one at that, before age 30?
Well, if you can imagine that, the story has come full circle as today, Gordon Butch Stewart, is regional Tourism's Powerplayer; The Sandals and Beaches Brand, two of the Tourism world most recognized resort brands; And yet, Butch is still not yet resting on his laurels.
That brand, Sandals Resorts, is a global one, and contrary to its name, which conjures images of leisure or the laidback, the Sandals brand which includes Beaches Resorts and is located in every major Caribbean destination, is a high-end brand, catering to newlyweds, honeymooners, anniversary celebrants, and traditional vacationing couples, under the all-inclusive concept, where vacationers, buy a prepaid holiday on their Island of choice, and party their holiday away!
While Sandals is indeed synonymous with Gordon Butch Stewart, his portfolio includes extensive real estate holdings; high-end motor-vehicle dealeships; distrubution of high-tech household appliances, and yes, Air-conditioners…
Easy of manner with his friends, staffers and VIPs alike, the father 6, seemed to have identified son, Adam Stewart, as his heir apparent, who observers say, is assuming more and more of the everyday management duties.
9. Chris Blackwell: Highly regarded as the God-Father of Reggae, because of his early work in taking Reggae to the world, Blackwell, whose global image is that of the counter-culture playboy, has emerged as the Country's' unofficial International-Ambassador-At-Large, his pull being that laidback cachet that he has melded into a chic resort brand, tucked neatly away from the maddening crowds on exotic islands, with Jamaica, being his operational base and home!
Blackwell continues to pull the international Jet-setters and "A- Crowders", to the shores of Jamaica. His unassuming air, and effortless promotion of Brand Jamaica has earned him the respect of the Jamaican business community, policy-makers, and tourism power-players. He has no known designated heir(s), but is the Father of One.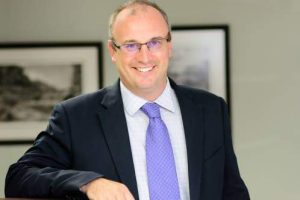 10. PB Scott: Is the scion (Grandson) of the late regional business tycoon Desmond Blades and wife Mrs Pegy Blades, who came to Jamaica, from Barbados, PB Scott, is the son of their daughter Susan Scott.
Now PB Scott inherited an Empire and then some, and has been remaking that empire in his own corporate image, since ascending the throne of the Musson Group of Companies, in 2009.
As the Chairman, Chief Executive Officer, and Principal Shareholder of the Musson Group, which operates in over 30 Countries (Latin America And The Caribbean), PB Scott is indeed one very powerful 'youngman'.
Indeed, A Corporate powerbroker and powerplayer, he is courted and sought out by the political elite across the region as he is crafting his mark in the region as a hard-nosed tycoon, with an expansionist vision, determined to transform the Musson Group, whilst improving on its considerable fortunes.
And With the Musson Group, being the umbrella to the: PBS Group Ltd; Facey Group Ltd; T. Geddes Grant Distributors Ltd; General Accident Insurance Company Ltd; and Seprod Ltd; while serving in the capacity as director to several other companies and organizations, including the Development Bank of Jamaica, and the Honorary Consul General, for the Republic of Guatemala; the founder of Sail Jamaica, Jamaica's only sailing school, PB Scott, is hot Corporate Real Estate!
And little wonder as since assuming the reins of the Musson Group, he has spearheaded a transformation drive that has seen the Group emerge from its old shell as primarily a distribution network of local consumer goods, to a regional conglomateur, operating with over 5000 employees; with an expanded portfolio that now includes industry, agriculture, food, manufacturing, pharmaceuticals, telecommunications, information technology and insurance.